Whether you've reached a new personal best or are looking for a way to stand out from the rest…this list of my most-loved products (and services) includes everything from leggings to protein bars.  Treat yourself for accomplishing those goals and keep yourself accountable with these favorite fitness finds!
Classes
Many of us have gym memberships.  We run on the treadmill.  We lift weights.  It can get kind of boring if you're not good at mixing it up and trying new things.  The solution?  Every fit girl craves fitness classes!! Whether it's a 5 pack of yoga class or a month's membership to the spin studio, this is a choice that will invigorate her body AND mind.  And on that note, why not consider a class of another kind?  Perhaps a cooking class or Wine 101.
Mani-pedi
No matter how badly I need a mani-pedi, I refuse to pay for one.  There's something about knowing I can "do it myself" that keeps me from having a professional massage my feet, rub lotion into my legs and trim the cuticles that are as annoying as the snow that's guaranteed to accumulate on your driveway before you leave for work at 6am.  So check out Groupon or head to a local spa to pick up a gift certificate.
Massage
While a message isn't necessarily something I can "do myself," most fitness girls see it as a luxury.  However, when you're in the gym 6 or 7 days a week, it's easy to overwork and under-rest.  Whether you give your girl a massage yourself or treat her to a visit to Massage Envy, this is a gift worth giving.
RAD Roller
I know, I said I can't really give myself a massage.  Yes, going to the spa every now and then is a luxury.  One that's worthwhile, but that we can't afford on a regular basis.  What's the solution for massaging out those knots, improving blood and lymph flow and improving mobility?  The RAD Roller.
XBAR Fitness System
The XBAR's unique and innovative design allows for unlimited exercises.  Workout every body part with one compact device.  Work your abs, shoulders, chest, legs, back, biceps, triceps and more!  It's simple, portable and functional   Train on your time, in your place, at your pace.  Save 10% on your entire order at www.xbar.com with code MEGANMEISNER at checkout.  Shipping is free.
Online Fitness Program
If the person you're shopping for is new to exercise, has reached a plateau, or is looking to improve their athletic ability, working with a Personal Trainer provides several advantages over working out on your own.  I am a Certified Personal Trainer. My experience includes working with beginners, athletes, recreational exercisers, prenatal clients, and clients preparing for their wedding day!  Online programs are available, as are partner and group sessions.  Click here for more information.
Garmin 
I'm not a very "tech-savvy" person.  When I turned 16, I told my mom I wasn't that excited to get a car; I would prefer to ride a bike everywhere.  I was probably one of the last people to get a smartphone.  But, when you're a personal trainer and fitness is life, tracking progress and assessing your heart rate, caloric burn and sleep can be fun.  Yes, FUN.  Which is why I recommend the  Garmin activity tracker.  Not only does it display steps, calories, distance, heart rate and intensity minutes, but some include all day stress tracking and a V02 max assessment.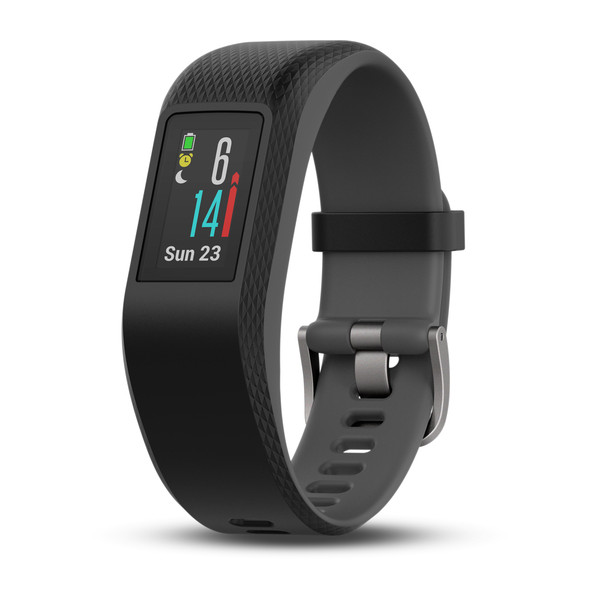 SOL and SELENE
While I like to consider myself a "minimalist," whether you're heading to the gym or to the coffeehouse, you need a place to compartmentalize everything ranging from your phone charger to your sweat towel to your snack and protein shake.  That's why I love my crossbody SOL and SELENE backpack and so many others.
Atlar Ego
Leggings that are long enough for my 6 foot frame are hard to come by.  Leggings that are long enough, super cute AND sport friendly are a whole other story!  But with Altar Ego, you can have all of the above, and for a decent price too!  The leggings, made of Imported Italian Spandex, offer four-way stretch and a second-skin feel.  Because they are made to order, you can even request a longer (or shorter!) length.  Use code MEGANEMEISNER for 15% your entire order at Altar Ego.
Jaybird

Wireless earbuds are life changing.  I had my first Jaybird experience over three years ago and cannot image working out with earbuds and a cord.  The greatest thing about having wireless earbuds is your phone can be anywhere.  On the treadmill console.  In your gym bag.  And the sound is phenomenal.
IdealRaw
Achieving your fitness goals should not be complicated (or expensive!).  That's why I put together the Megan's Raw Bundle of my FAVORITE IdealRaw products.  Whether you're working out at the gym or at home, nutrition and restoration are crucial components of your success.  These products from IdealRaw offer everything your body needs to become leaner, stronger and more fit. Use code MEGANMEISNER for an extra 10% off. 

True Made Foods Vegetable Sauce
Every fitness lover is also a foodie at heart!  But, most of us are cautious of sugar content and mystery ingredients.  We want food that's natural and tastes good!  Not only do True Made Foods BBQ, Ketchup and Veracha sauces contain more than a full serving of veggies in every bottle, but they've removed the corn syrup and have sweetened the sauces with spinach, carrots and butternut squash instead.
Quest Nutrition Bars
I have been a fan of Quest Nutrition Bars for almost as long as they've been around.  Not only do they come in countless flavors and taste amazing, but they're full of protein and fiber.  My favorite flavors?  Cookies & Cream, Chocolate Chip Cookie Dough and, most recently, the new Birthday Cake flavor.
NeoCell
Ok, some people might unwrap a tub of collagen powder and think "What kind of gift is this?!" But a fit girl, or anyone who's concerned with healthy hair, skin, bones and joints will be ecstatic!  I discovered NeoCell in 2014 while training for my first NPC bikini competition.  Collagen is the most abundant protein in your body–and it declines over time!  Supplementing will collagen not only helps keep your bones dense but it also helps keep your skin hydrated and firm and your hair healthy.
Hamilton Beach Blender
I have recommended this product more than once.  The first time I bought this Hamilton Beach model, I was in college.  It lasted 10+ years and did everything I needed it to, like blend protein shakes and do what most full size blenders would do (but in single girl, living alone portions).  I bought the same blender a few years ago and use it regularly to blend protein shakes–making a thick milkshake like drink with frozen banana pieces!
Coffee Beanery
Because who doesn't love coffee?! The caffeine!  The flavors!! And when I say flavors,  I'm not just talking Pumpkin Spice and Vanilla.  Coffee Beanery carries over 40+ flavors including French Toast, Frosted Carrot Cake, Michigan Cherry, S'mores, Sinful Sundae and more.
Shields of Strength
I discovered Shields of Strength through Instagram and was so intrigued by the products and the company's presence in various communities, particularly in the fitness industry. It is amazing to see women like Jamie Eason and Paige Hathaway not only represent their commitment to a healthy lifestyle, but to a spiritual one as well. This is a great opportunity to share faith in God and passion for fitness.  Explore the options from Shields of Strength here.
Andalou Naturals
My love for Andalou Naturals began a few years ago when I was shopping on the Vitamin Shoppe web site and needed to spend another $10 or so to qualify for the promotional discount.  Little did I know how much I would love Andalou Naturals and become a fan for life.  The products are non-GMO, organic and all natural.  And most of them fall within the $10-15 price range!
Dailygreatness Journal
The Dailygreatness Wellness Journal provides daily guidance and motivation through meal and goal planners, training tips, weekly shopping lists and more.  I actually discovered this product from one of my online clients who incorporated it into our training!  It's the perfect companion to my Online Fitness Program.  Weekly and quarterly check-ins provide accountability while celebrating progress.  

"Wrapping" Up
If you're still stumped for gift ideas for that fitness friend, send her this article and get her opinion.  If all else fails, keep in mind that a lululemon gift card, tucked into a new water bottle of travel coffee will almost always do the trick.